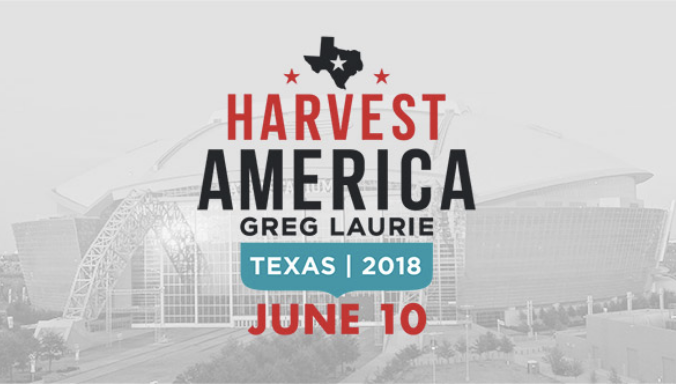 I can't tell you all how excited the Harvest America Team is to be returning to Texas on June 10, 2018 for the next installment of Harvest America.
I've had the honor of serving alongside hundreds of churches in the DFW Metroplex since 2013, when we began the work for the first Harvest America we hosted at the American Airlines Center in 2014. That night was one of the most amazing works for the Spirit I'd ever been a part of. Watching the venue fill to capacity, with an overflow crowd of an estimated 5,000 outside in the Victory Plaza, was an image I will never forget. When it was all said and done, some 5,200 people made commitments to follow Jesus.
Little did we know, the Lord had much bigger plans for us and the DFW community when He called us back to show off His amazing grace like never before in American history. With the invitation of a group of DFW pastors and leaders we were invited back to host Harvest America in 2016. But this time at one of the largest and most iconic stadiums in North America, AT&T Stadium, home of the Dallas Cowboys. I remained in Texas to continue mobilizing the community leading up to the outreach scheduled for March 6, 2016.
That evening was full of energy and excitement as we watched 82,000 fill that stadium in record time with an overflow crowd estimated to be over 20,000 outside watching from the stadium's big screens. I can count on one hand the number of times in my life that I've literally had no words to describe something, and this is at the top of that list, as the night concluded with over 25,000 people making a profession to follow Jesus. Harvest America 2016 was deemed the largest one-night evangelistic outreach in American history. All glory to God!
Well the next chapter has been set, and I can't wait to see what the Lord has for us next. Please join me in prayer as we serve together, linking shields under the banner of the gospel. I look forward to serving alongside the church of the DFW Metroplex, to raise up an army of believers who will be praying for the lost, inviting, and bringing them to Harvest America. This is the recipe we will use to bring the lost home to Jesus.
God bless,
J. Mark Arenas,
Director Harvest America