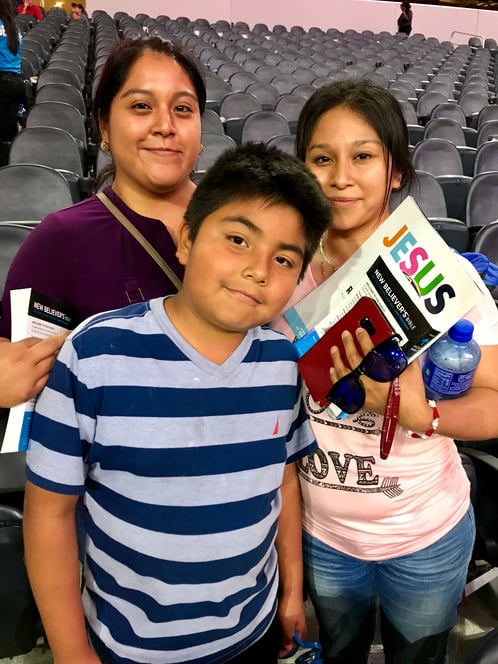 Enjoying the post-crusade concert were sisters Gaby and Marisol. Born and raised in Texas, they made their way down to the field tonight to rededicate their lives to Christ. They come from a large family and were raised in the Catholic church. They both knew the Lord, yet had different reasons for coming tonight.
Gaby said that she was trying to get closer with God but was allowing herself to give in to anxiety and stress; still, she knew God was always there. When she heard about Harvest America on the radio, she really wanted to come. "The worship music is different from what I was used to in church; it feels so alive here. Now that I've rededicated my life, I have committed to trusting in God and I know He will help me in finishing my psychology degree and having a career that will bring glory to God." Gaby hopes that the rest of her family will not miss the next Harvest outreach!
Her older sister Marisol rededicated her life because she allowed distractions of life to pull her away from her relationship with God. "I had a lot of excuses. When I had free time I would watch a movie instead of read my Bible. When I went to sleep, I would intend to pray but I would fall asleep. I would only reach out to God when I needed Him. It really impacted me tonight when Pastor Greg talked about getting a hard heart, and I didn't want that to happen to me. Now, God's given me a whole new perspective for my future."
Would you please pray for these sweet sisters? Their mother Maria is in need of a kidney transplant. Thankfully, they have a renewed trust in the Lord, who can give them strength and comfort to see them through.