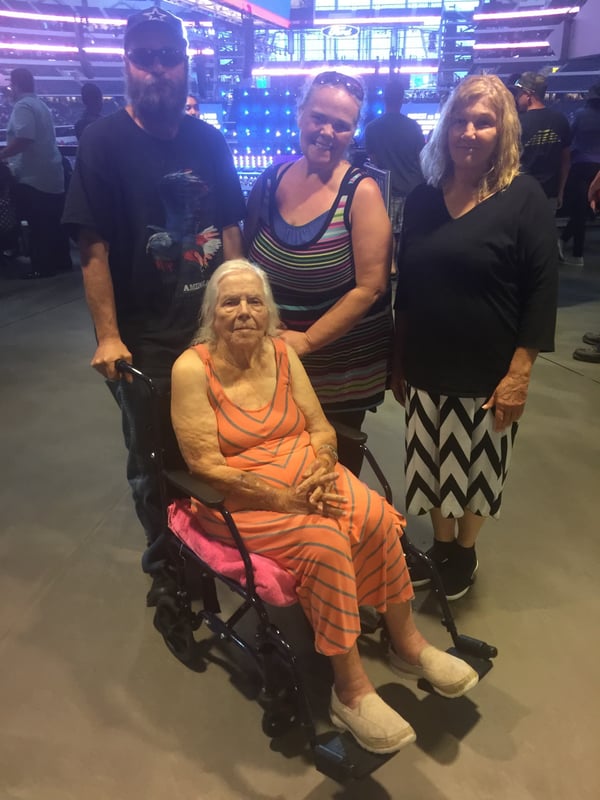 Nothing stopped this wonderful group from attending Harvest America tonight! Driving two hours to get here, John Jr., Vonniciel, Caprice, and Thelma were excited for this night of music and evangelism.
Ms. Thelma grabbed my attention with her quiet demeanor, telling me a few times, "I've known Jesus my whole life…90 years." Thelma is a sweet woman who was raised in a home of 10 children, all of whom are believers, says Caprice. Vonniciel remembers Ms. Thelma taking her to see Billy Graham years ago. They asked her if she wanted to come tonight to see Pastor Greg Laurie at Harvest America and she sure did! Caprice says that they listen to him on the radio and were excited to see him speak tonight.
Asked what they believe God would have them share with us tonight, the group responded, "Have faith, even when things feel hopeless, Jesus is always there. Trust and obey Him." Ms. Thelma very softly and sweetly said, "Keep Jesus with you; keep your faith strong."
Ms. Thelma is a great reminder that God is always with us if we choose Him, whether it's a short amount of time knowing him, or 90 years. Perfect for this night of evangelism, Ms. Thelma is still telling others about Jesus and how she knows Him.