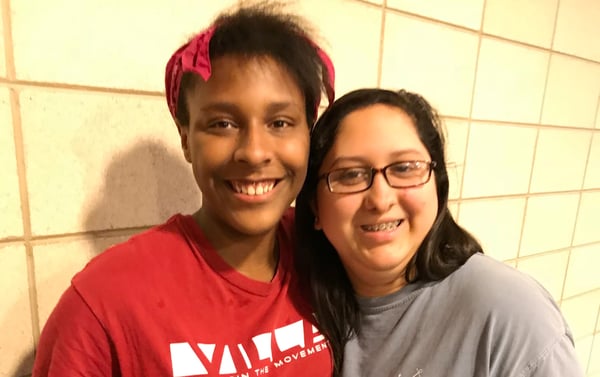 Many times God uses the difficulty and pain in our lives to make a difference in the lives of others. These two young ladies, brought to tonight's Harvest Crusade by their youth pastor, Allen, are hoping to do just that. In their few years of life, Dawuan and Cecilia have both experienced some major hardships, but that won't stop them from being available to be used by God to help others who may be experiencing the same trials.
Cecilia is a sweet and strong 18-year-old who came to Christ in 2015 while attending a Christian camp. Due to her mother's drug abuse, she was born with a cleft pallet; she also had to grow up fast by taking care of her younger siblings because she basically had no mother around. Yet she doesn't feel sorry for herself, "There will be times in our life when we feel like we are unloved, but God loves you no matter who you are or what your circumstance. It's normal to doubt sometimes, but you need to know that God will be there for you." Now that Cecilia has graduated, she's hoping to find a job, maybe even something centered on the things she loves to do: reading, writing, and spending lots of time at church.
Tender 13-year-old Dawuan can remember the exact day she accepted Jesus. "It was October 11, 2017," she struggles to share through tears because she remembers that day so clearly. Her sister had gone through a traumatic situation that brought Dawuan to call out to the Lord and seek Him for answers, comfort, and peace. God was faithful, and He also changed her attitude. "I was mouthy and mean; I had a bad attitude. Now, I want others to know that if they're going through something, they need to tell someone and don't hold it inside." Even though Dawuan's only been a Christian for a short time, she knows God can use her to encourage and minister to others who are hurting because of similar circumstances that she's experienced. And what is Dawuan's hope for the future? "When I was little I would draw pictures and sell then for one penny; I would like to make a living as an artist because I love to draw."
God can take our hopes and dreams and turn them in to reality when we trust in His perfect will, and it sounds like these girls are on their way to doing just that!